1. Get Acquaint
Description of Buttons and Keys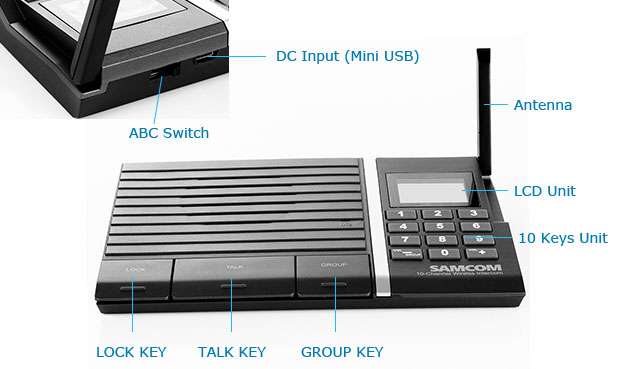 Display symbols and icons

2.Set INTERCOM channel and function
Set Channel
Factory settings for all INTERCOM channel is 1. Each INTERCOM should have own channel to be called other INTERCOM individually. To set INTERCOM channel, select number from 1 to 9 and depressed for 8 seconds. After 8 seconds, short beep sound will be generated and New set channel will be displayed in LCD unit automatically.
For example

Set Group channel
Factory settings for all Group channel is 0, if no interference sound or interface from theneighbor system need not be resetted.
To set new Group channel for each INTERCOM, following are the step:
1. Press "-" key for 15 seconds
2. After the beep, Group call icon will flash
3. Input new group channel number.
4. New group channel will be displayed in LCD unit.

Note:
If you change Group call channel you should change all INTERCOM in your hand to
same number otherwise group call does not function.
ABC switch function
FTAN10A has special ABC selection switch.
All the ABC switch should set in the same position such as "A" position.
If you find some interference sound or interface from the neighbor system,
you can change to ABC switch to other position "B" or " C" to avoid such problems.